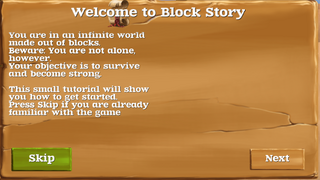 Block Story is a role-playing video game created by Mind Blocks. In it, there are creatures that are helpful or hurtful. Some helpful creatures give you quests that you can complete. When you complete them, the requesters give you prizes. You can also build anything you can imagine! Endless worlds and many biomes will keep you exploring for hours!
As of in January 30 2012 mindblocks released pictures upcoming role playing game Block Story set of release in March
About the Game
Edit
"If you love sand box, role playing, dragon action games, Block Story is a must buy for you. Explore and build in ten expansive ecosystems where you can summon five different creatures to join you in combat. Level up, grow stronger and battle on. Cross platform compatibility also allows you to save your PC game and continue playing Block Story on our mobile versions when you are on the go." [1]
One of the top role playing games for mobile and PC
One of the top mobile and PC block building games
One of the top dragon action games for PC
Ten expansive ecosystems to build in and explore
Summon five different creatures to join you in combat
Fantasy/middle ages art style
Level up, grow stronger and battle on
Hours of quest game play and fun
MOGA mobile enhanced controller support
References
Edit